Official Windows Phone 7 Facebook app appears!
No Comments
<!!! -- YOAST BREADCRUMB FUNCTION GOES HERE -- !!!>
After seeing how deeply Facebook is already integrated into WindowsPhone7, I wasnt expecting a stand-alone app to appear, but as I looked through the selection of "Social" apps, there it was! The Facebook logo! Its come from the Microsoft corp, so its no hoax. Not that it would be, but I'm still a little surprised by its appearance. See some pics after the break!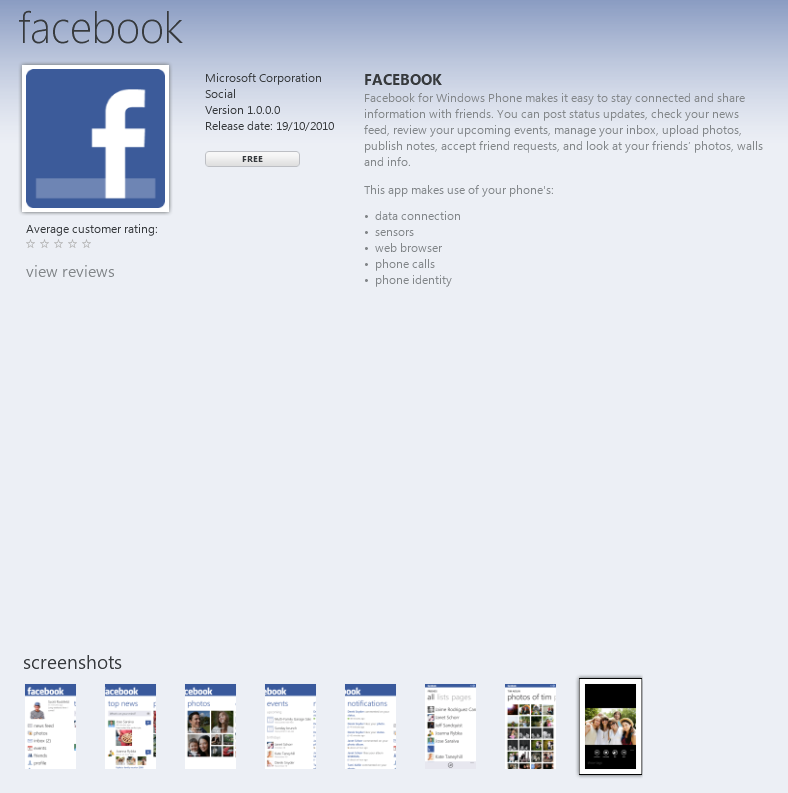 Fancy checking it out for yourself? Go download the Zune software!
This is a test 1800Pocket/PC (1800PPC) account for improving the user experience and also includes articles written by 1800PPC founder and former Editor in Chief Saijo George as well as contributors from 2008 to 2013 such as Yanko Andreev and Cris Rowlands. If you would like to contribute to 1800PPC as a writer, contact Josh Nay
On

October 20, 2010

http://www.1800pocketpc.com
Like this article? Share it!