MusicID – identify that song on the radio using your phone
7 Comments
<!-YOAST BREADCRUMB FUNCTION GOES HERE-!>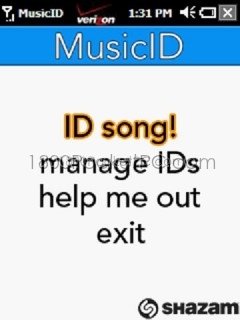 MusicID – identify that song on the radio using your phone , does what it says. When you listen to a song on the radio and you have no clue who the artist is or the title of the song this tools comes to your aid. Just flip out your phone after running MusicID and select ID song, now hold it near the radio and voila it shows you the name of the artist and the title.
This application does not recognize the input on touchscreen devices , so just use the dpad and softkeys for navigation.
Works on Raphael too but has got screen allignment issue . Its a little small and stuck in the corner but it works.
Source : xda-developers.com
=== DOWNLOAD===
Music ID
UPDATE : Check a similar FREE App for Windows Mobile Midomi